A.B. Dick DPM2508 Digital PlateMaster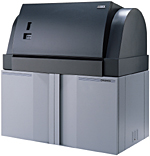 The DPM 2508 features an integrated level 3 PostScript Harlequin RIP and an internal polyester plate processor, making it ideal for all types of high-quality work, up to and including 175lpi four-colour process, with resolutions ranging from 120dpi to 3,600dpi. It also has integrated punching and an online plate drierand has an OpenProof proofing system, and inRIP trapping facility installed for those tight registration jobs. The platesetter uses high quality polyester plates.
It is also has a Calibration Manager used to fine-tune the output to suit the individual characteristics of each printing press.
Combined with a ScanMaster Digital Pre-Press system for those older hand stripped jobs this system is capable of handeling any type of job.